Innodel is one of the most trusted names in the IT sector as it enables its clients to digitize, scale and transform into high-performance businesses. We serve clients across North America and Europe providing services in the field of Enterprise Business Applications, Internet Technologies, and Higher-end technology solutions.
At Innodel, we always believe in ourselves and know that we can make a difference by having a very deep industry and business process expertise along with proven track record in developing creative technology solutions for its clients. Our vision is to enable our customer's long-term economic success by delivering relevant and trusted technology solutions.
Our Vision
Innodel Technologies aspires to transform the entire concept individual have in regards with the service industry.
Our vision is to endeavor for wholehearted satisfaction and exceptional customer service. Innodel continuously strive for excellence and quality giving to its customers which is the best service experience.
Our Mission
Deliver innovative technology solutions and establish meaningful client partnerships which help to generate greater efficiency and productivity, resulting in improved bottom lines.

Maintain a focused commitment towards understanding technology evolution and its relevance to various business applications.

Enable greater insight and value with a 'project-to-partnership' business philosophy.
Business Value
Customer Commitment
We develop relations that make a drastic difference in our consumer's lives.With a motto of delivering perfection and nothing else leads us towards our commitment to Customer. So that client becomes our activepartners in the progress of our communities.
Speed
Speed is the essence of our business. We believe in delivering with pace and responsiveness to our customers and all other stakeholders. We break through challenges to meet our targeted goal of delivering projects on time every time.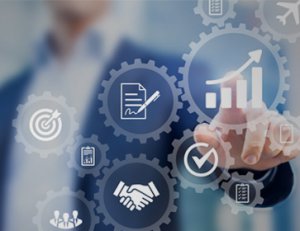 Integrity
Trust is the basis of all business relationships, be it employer-employee or company-consumer. Integrity means thinking about ideas and doing what is a correct way of doing things all times, no matter what the consequences. Ultimately living by your standards. We stay true to our words and deliver what is committed.
Teamwork
Innodel believes in a collaborative work environment that fosters open communication, sharing of ideas and thoughts and learning attitude. It helps an employee to function smoothly at workplace and consider as a business partner which create flexible office culture and easy to work with.
Stewardship
We work in the best interest of all stakeholders. We carefully manager our resources to manage the time and energy of both parties. It helps the company to actively deliver authority and responsibility to employees whereby, they will feel more involved with the best interest of the owner.
Competitive business can be complicated, simplify it with Innodel, the place to manage your business in digital way.